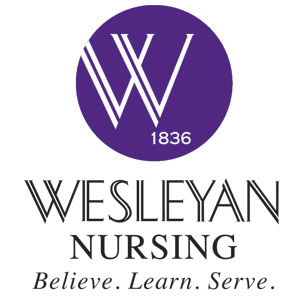 Wesleyan College one of only 100 nursing schools nationwide selected to receive funding for White Coat Ceremonies
WASHINGTON, DC — The Arnold P. Gold Foundation (APGF) and the American Association of Colleges of Nursing (AACN)announced that 100 schools of nursing were selected to receive funding support to pilot White Coat Ceremonies, which are designed to instill a commitment to providing compassionate care among future health professionals. Wesleyan College is one of only three schools in Georgia selected to participate this pilot year. Wesleyan's Bachelor of Science in Nursing Program (BSN) will welcome thirty women into the school's second cohort of nursing students during a White Coat Ceremony Friday, August 22, 2014 at 3PM in Oval Hall. The Arnold P. Gold Foundation and theAmerican Association of Colleges of Nursing provided the gift of the Humanism Lapel for each entering nursing student.

Though White Coat Ceremonies have been an important rite of passage at medical schools for more than 20 years, this new collaboration between APGF and AACN marks the first time a coordinated effort has been developed to offer similar events at schools of nursing. In this pilot year, nursing schools in 43 states plus the District of Columbia were provided financial support and guidance to offer a White Coat Ceremony, which will consist of the recitation of an oath, cloaking of students in a white coat, an address by an eminent role model, and a reception for students and invited guests. Students also will receive a specially designed pin that will serve as a visual reminder of their oath and commitment to providing high quality care.

Funded by APGF Trustee Elaine Adler and her husband Mike, Co-Founders of the Adler Aphasia Center, this ground-breaking program was developed to promote humanistic, patient-centered care among incoming nursing students this fall. "As The Arnold P. Gold Foundation broadens its mission to engage the entire healthcare team, we are pleased to partner with the AACN to pilot the White Coat Ceremony for nursing students," stated Dr. Richard Levin, President and CEO. "Creating a new link between nurses and physicians through humanism supports optimal health care in the 21st century. We are thankful for the support of Elaine and Mike Adler in this partnership project."

Wesleyan's first cohort of nursing students began junior-level nursing courses in Fall 2013. Hallmarks of the program include an emphasis on women's health and holistic nursing, with specific coursework designed to prepare graduates for leadership and management roles. Area facilities serving as clinical sites include Central Georgia Health System, Medical Center of Central Georgia, Coliseum Health System, and the Macon-Bibb County Health Department. The College anticipates working with other acute and primary care health facilities in the region as well.

"By offering White Coat Ceremonies, our schools are sending a clear message to new nursing students that compassionate care must be a hallmark of their clinical practice," said Dr. Eileen T. Breslin, AACN President. "Securing a commitment to providing patient-centered care at the beginning of a nurse's professional formation will help to raise the quality of care available to all patients."

Following the pilot program, The Arnold P. Gold Foundation and AACN are planning 2015 to be the inaugural year for the nationwide rollout of the White Coat Ceremony to a larger number of nursing institutions. For more information about this program, contact AACN program manager Shelley Porte at sporte@aacn.nche.edu.