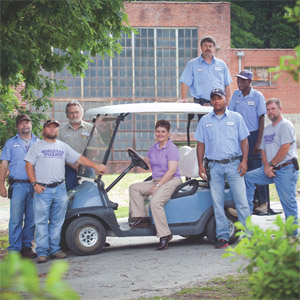 Left to right: Jack, Sam, CP, Kelly, Troy
Top to bottom on the right: William, Billy, James
Wesleyan's amazing facilities team
The Wesleyan College campus often receives compliments from visitors and members of the community, especially for its beautiful setting and well-maintained buildings. Many probably think the college employs scores of workers to care for such a big, charming place, but they would be wrong. At Wesleyan, that task is handled by a dedicated and talented staff of eight – Wesleyan's amazing Facilities Team.

Led by Kelly Bledsoe, director of facilities, the team stays busy with both a large volume and a wide variety of projects. Many of the seventeen major and ten smaller buildings date from the campus's opening in 1928, providing those special challenges that always seem to follow a commitment to historic preservation. The team is undaunted, however, as they have been an integral part of the College's efforts to make the campus more efficient than ever before – helping to lower energy consumption, recycle more, and generate less waste. Their work is often difficult, but they perform their jobs cheerfully and are quick with a smile and a wave. Together, they ensure that the 200-acre campus, including 500,000 square feet of heated space, continues to be a jewel in the community. The efforts of the Facilities Department were recognized when the entire team won the President's Award in 2012.

The responsibilities of the facilities staff range from constructing new buildings to repairing leaky faucets. Their work environment includes damp crawl spaces, tall rooftops, and everything in between, with temperatures from below freezing to over 100 degrees. The obstacles range from fire to ice and from bees to beavers. Someone is on call at all times, especially to take late-night and weekend calls from Campus Police. During the ice storms of January, 2014, Kelly slept in one of the residence halls so she would be on campus in case of fallen trees, power outages, or other damage.

In addition to their daily responsibilities, facilities team members often assist with special projects like these:
• Converting all campus gas lines to Atlanta Gas Light ownership Designing and constructing Pierce Chapel
• Relocating and reconstructing the James Hyde Porter House
• Reconstructing a section of the old Physical Plant building following a fire
• Replacing aging trees, nurturing existing landscaping, and maintaining the lake, dam, and streams
• Complying with environmental, fire and safety, zoning, and other regulations
• Maintaining the vehicle fleet
• Supporting the equestrian center, pool, and other athletic facilities
• Maintaining central storage, delivering materials, and overseeing the recycling/conservation programs
• Organizing special work days to involve students, faculty, and staff in sprucing up the campus

Wesleyan's facilities staff takes care of the basic needs of the college's building and grounds, while contractors are engaged for specialties such as dining and custodial services, roofing, heating, air conditioning, plumbing, and other trades. This combination of outsource experts and Wesleyan's skilled facilities team provides a safe, efficient, and attractive environment for students and makes Wesleyan a valued neighbor in the community.
Kelly Bledsoe, Director
This mother of six children and grandmother of three has worked her way up in the organization over the past fifteen years, becoming the Director in 2005. She received the President's Award in 2009 and enjoys traveling and supporting Alabama football in her spare time.

Charles (CP) Pitts, Building Maintenance Twenty-nine years of experience make CP the go-to guy on facilities issues. He's a big animal lover who has rescued many creatures found on campus, from snakes to feral cats. He remembers helping to coax a horse on the stage of Porter Auditorium to surprise President Ackerman at the conclusion of a major fundraising campaign.

Billy Robinson, Grounds
This family man has been maintaining the grounds at Wesleyan for twenty-seven years. One of his favorite memories is helping rebuild the Dice R. Anderson Cabin.

Troy Lawson, Grounds
An eleven-year veteran, Troy loves being outside and mowing the campus grounds. He enjoys spending time with his children and is always happy when the Wesleyan soccer team has a good season.

William Pointer, Building Maintenance
A versatile worker on campus for more than six years, William likes to tinker with and repair all sorts of things. He especially likes meeting people from all over the world at Wesleyan, as well as traveling with his wife Lori, who is a long-time member of Wesleyan's business office staff.

Jack Callaway, Building Maintenance
Jack has been helping students, employees, and visitors for more than five years. He enjoys spending time with his family, including his daughter who is a rising senior at Wesleyan.

James Fleenor, Painter
In just two years, James has impressed the campus not only with his painting skills but also with his ability to repair almost anything. He likes spending time outdoors with his family.

Sam Gandy, Grounds
The newest member of the facilities team, Sam takes pride in keeping the campus beautiful and safe, especially during the challenging weather we experienced last winter. Outside of the work environment, he enjoys coaching his sons' sports teams.