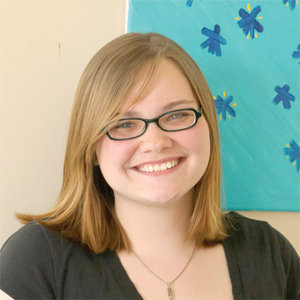 2014 Winner, Scholarship for Leadership
Elizabeth Harrell '16 Honored with Scholarship for Leadership
Each year the Wesleyan College Alumnae Association awards a scholarship for leadership to a rising junior who is selected for her outstanding leadership qualities and the good academic standing she has shown during her first two years at the College. This year the recipient is Elizabeth Harrell, Class of 2016.

Elizabeth Harrell is a native of Camilla, Georgia, but has called Brunswick, Georgia, home since 2007. When she entered Wesleyan she quickly claimed the College as her second home and became engaged in campus life and causes that were close to her heart. Her passion for helping others began in Brunswick with work in a special needs church ministry which fueled her desire to major in religious studies and philosophy.

From the start, Elizabeth took an active role as a campus leader and began sharing her love of serving others. She became involved with the Wesleyan Disciples program in her first year and has served on the Council of Religious Unity (CRU) in her sophomore year. She also has served on the committee for Relay for Life. Selected to be a volunteer for WAVE, she was an orientation leader and was chosen as a summer lead for her sophomore year.

A spirited member of the Green Knight Class, Elizabeth has been involved with STUNT and was the 2014 Green Knight STUNT committee chair. In the Macon community Elizabeth has volunteered with Aunt Maggie's Kitchen Table and WOW! A Day for Macon. During the week Elizabeth works as a student assistant in Huckabee Hall and finds times to work with a special needs person on campus doing occupational therapy.

In addition to her leadership roles, Elizabeth maintains an outstanding academic record. She has been named to the Provost's List each year and received a certificate of scholastic achievement from The Honor Society Phi Kappa Phi in her first year. After Wesleyan, Elizabeth plans to pursue a master's degree in higher education administration and would like to serve as a dean of students at a major university.

Elizabeth values the time she gives to others and says, "There are many opportunities to lead at Wesleyan. It is a place where you get to fully develop your own leadership strengths and weaknesses. I am stronger now because I have been challenged to become a better leader."

For her outstanding leadership and potential; for her scholastic achievements and honors; for service she has given to the Macon community and to Wesleyan, especially as a role model for first and second year students; and for upholding Wesleyan traditions and ideals as a class leader, the Wesleyan College Alumnae Association is proud to present the Scholarship for Leadership award to Elizabeth Harrell, Class of 2016.