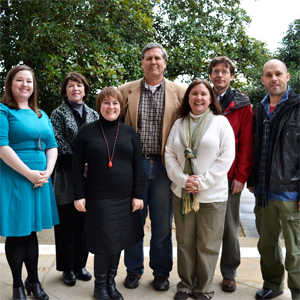 Wesleyan Delegation
Emily Jarvis, Vivia Fowler, Deidra Donmoyer, Matt Martin, Teresa Kochera, Jim Ferrari, Brock Bingaman.
Wesleyan College delegation presents at American Cultural Center in Guangzhou, China
Through a grant awarded by the U.S. Department of State, a delegation of seven Wesleyan College and five Vanderbilt University faculty and staff members traveled to Guangzhou, China Friday, February 28, 2014, to present a week's worth of lectures at the schools' American Cultural Centers at Guangzhou University and Sun Yat-sen University, respectively.

Wesleyan is the only women's college in the world, and one of the smallest colleges, to host a Confucius Institute on its campus. With 400 Confucius Institutes worldwide, including 100 in the United States, Wesleyan is one of only 19 institutions to also have an American Cultural Center in China.

Opened in the Spring of 2013, the Confucius Institute at Wesleyan College (CIWC) offers instruction in Chinese language and culture; fosters intercultural exchange with China among students, educators, and our community; serves as a resource for Chinese studies through its China Museum; and celebrates the historic connection between Wesleyan College, the Soong sisters, and China in changing the lives of women through higher education and social action. The CIWC grand opening was scheduled to coincide with the 100th anniversary of Soong Ching-ling's (Madame Sun Yat-sen) graduation in 1913 from Wesleyan College.

The U.S. Department of State awarded Wesleyan College a grant to develop an American Cultural Center (ACC) at Guangzhou University in China in 2012. The ACC solidifies the two-way partnership of the two institutions and offers American cultural programming to Chinese college students and communities. ACC-sponsored programs include American film festivals, art exhibitions, demonstrations of Western sports, and hosting visiting lecturers from American partner institutions.

Wesleyan College and Guangzhou University organized a series of Virtual Joint Classroom experiences in December of 2013 to preface the traveling lecture series. Students gathered in classrooms fitted with teleconferencing equipment in both Guangzhou and Macon and listened together to lectures on traditional Chinese fan painting and American landscape painting.

The American Cultural Center grant shared by Wesleyan College and Vanderbilt University is an opportunity to share Western topics and pedagogy with the faculty and students of the two schools' Chinese partners in the city of Guangzhou. The lecture series encompasses themes of American Narratives, American Religion and Society, and Health and Science in America. The delegation will also visit a third Guangzhou school, South China Normal University, to offer a panel on Higher Education in the U.S. and China.

The Wesleyan delegation includes: Vivia Fowler, Provost of the College and Vice President of Academic Affairs, Professor of Religious Studies; Steve Farr, Vice President for Enrollment Services; Deidra Donmoyer, Assistant Professor of Communication and Women's Studies, Women's Studies Program Director; Matt Martin, Professor of English, Knox Professor of Humanities, Humanities Division Chair; Jim Ferrari, Professor of Biology, Biology Department Chair and Program Director, Environmental Studies Program Director, Wesleyan College Arboretum Director; Teresa Kochera, Associate Professor of Nursing; Brock Bingaman, Assistant Professor of Religious Studies; Emily Jarvis, Program Coordinator of the Confucius Institute.