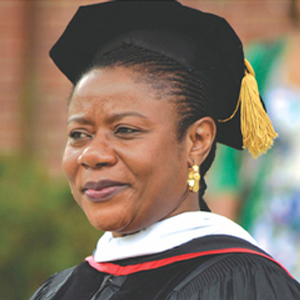 Her Excellency Faida M. Mitifu, Ambassador Extraordinary and Plenipotentiary of the Democratic Republic of Congo (DRC) to the United States
Wesleyan Graduates 76 at 2012 Commencement
During the 2012 commencement ceremony on Saturday, May 5, Wesleyan College graduated 76 candidates for Bachelor of Arts undergraduate degrees. In separate ceremonies during June and August, Wesleyan will award five graduate degrees to professionals through its Executive Master of Business Administration program and ten graduate degrees to professionals through its Master of Education program.   
Of the 2012 graduates who earned the Bachelor of Arts degree at Wesleyan, 26% earned double majors and 33% graduated with honors. Top majors for 2012 were: psychology, business administration, biology, and advertising & marketing communication. Roughly 59% of the graduates had secured professional positions in their fields of study and/or had accepted positions in graduate programs prior to commencement. According to voluntary surveys completed by most graduating seniors, all but three who applied to graduate school programs were accepted, and approximately 88% of those who were accepted got into their first choice program. An estimated 70% of those attending graduate school will immediately begin master's or doctoral programs that represent a broad range of study including neurology/immunology, Egyptology/museum studies, marketing, clinical psychology, business administration, agriculture, theology, and child play therapy. Two will be entering pre med programs. They're heading off to some of the most prestigious graduate schools in the world like Yale Divinity School, Candler School of Theology at Emory University, Brandeis University, Georgia Health Sciences University, the University of Tennessee, the University of Georgia, and Florida Institute of Technology.   
Many Wesleyan graduates enter the workforce with unique qualifications and have combined major and minor programs in ways that separate them from other job-seeking candidates. Some double major combinations of 2012 graduates include: international relations and psychology, French and English, philosophy and religious studies, economics and political science, and educational studies and mathematics. The 2012 graduates moving directly into the workforce will pursue professions in a wide variety of fields including education, software development, research, and finance. One will work with Homeland Security as a customs & border protection officer, another as an elementary school teacher in Houston County, and another as an English teaching assistant in Nantes, France. A few of this year's graduates will delay graduate school and work to pursue internships and summer research programs. Despite the major field of interest, Wesleyan's rigorous academic program combined with a foundation of faith and service produces graduates unified through engaged leadership and a commitment to pursue more purposeful lives.   
Wesleyan's graduating seniors anxiously awaited the call to action and inspiration of commencement speaker Her Excellency Faida M. Mitifu, Ambassador Extraordinary and Plenipotentiary of the Democratic Republic of Congo (DRC) to the United States. The Ambassador called upon Wesleyan's Class of 2012 to use their power as twenty first century leaders to make a difference in the lives of women around the world by joining women's associations that work for gender equality and fight social discrimination and injustices. "Education is the greatest force in the world. Don't be afraid to embrace something new. Look forward to your future and be ready to serve your country and fellow citizens of the world because it is the right thing to do," she said.   
Ambassador Mitifu was appointed to her Washington, D.C. ambassadorship in 2000 by the late President Laurent Désiré Kabilspan>a. She is thelongest serving of Africa's ambassadors, one of the longest serving ambassadors within the Diplomatic Corp in Washington, Chairperson of the African Ambassadors Group, and one of only a handful of females from any country who are Chiefs of Diplomatic Missions in the United States.   
An unabashed supporter of the continent of Africa, Ambassador Mitifu is a strong advocate for more US trade with African countries as the best way to alleviate poverty and meet the challenges of post conflict countries like the DRC. She works closely with Congolese based grassroots organizations to promote trade, development, and cultural understanding, to fight gender based violence, to enhance women's participation in economic and political processes, and to engage them on issues ranging from human rights, environment, health, and good governance.   
She has lobbied the United States Congress to increase development assistance for the DRC, to help in strengthening democratic institutions, boarder security and security reform, to lift economic sanctions, to secure DRC eligibility for the Africa Growth and Opportunity Act, which she initiated and helped organize. She has facilitated multi-billion dollar investments with the largest US copper and cobalt producer for the acquisition of one of the world's largest Copper and Cobalt deposits, the Tenke- Fungurume Mine.  
As a Board Member of the International Foundation for Education and Self-Help, Ambassador Mitifu testified before the United States Congressional Subcommittee on Africa about the crisis in the Great Lakes region of the DRC. In 2010, Ambassador Mitifu witnessed President Obamasign into law the Lord's Resistance Army Disarmament and Northern Uganda Recovery Act of 2009. The legislation crystallizes the commitment of the United States to help bring an end to the brutality and destruction that have been a hallmark of the Lord's Resistance Army across several countries for two decades, and to pursue a future of greater security and hope for the people of central Africa including northeastern Democratic Republic of Congo.   
Born in Bukavu, Kivu, Ambassador Mitifu received her bachelor of science degree in bio-chemistry education from the National University of Zaire-ISP in Kinshasa, DRC, a master's degree in French studies from Auburn University, and a doctorate in romance languages from the University of Georgia. Ambassador Mitifu's area of academic research has included French, francophone, and lusophone literatures from Africa and the Caribbean. She is fluent in French, English, Swahili, Lingala, and Shi. During the mid-1990s, Mitifu was an active member of the All North American Conference on Zaire, which worked to end the regime of dictator Mobutu Sese Seko. Before assuming her current position, Ambassador Mitifu taught French, World literature, and Francophone literature and culture at Auburn University, the University of Georgia, and at Columbus State University.