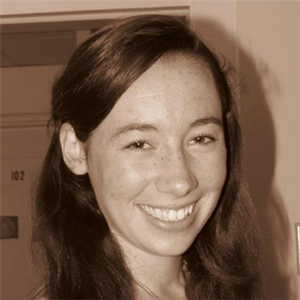 2013 Winner, Alumnae Association Scholarship for Leadership
Colleen DeGraff '15 Wins Scholarship for Leadership Award
Each year the Wesleyan College Alumnae Association awards a scholarship for leadership to a rising junior who is selected for her outstanding leadership qualities and the good academic standing she has shown during her first two years at the College. This year the recipient is Colleen DeGraff, Class of 2015.
Hailing from Concord, GA, Colleen attended Flint River Academy where she excelled in academics, athletics (basketball and softball), and as a budding leader. Volunteering for a variety of organizations in high school helped her realize her growing passion for helping others and her love for planning and designing events that would benefit those in need.

This same passion for serving others continues at Wesleyan where, in two short years, Colleen has demonstrated effective skills as a leader both on and off campus. She has taken the initiative to found and lead Wesleyan's Habitat Club, which is affiliated with Habitat for Humanity. As an Orientation Leader she will serve as the Summer Lead and Head Orientation Leader in 2014. A member of the Golden Heart Class, she shows her class spirit by serving as the public relations and spirit representative for STUNT. In addition, Colleen plays for the Pioneer soccer and softball teams, serves on the Student Athlete Advisory Committee, and is a Splinter. She is also a WAVE volunteer.

While active as an on-campus student leader, Colleen still finds time to serve in the Macon community. She participates in WOW! A Day for Macon and through her work as a Wesleyan Disciple and as a Lane Center Servant she volunteers at Aunt Maggie's Kitchen Table and Loaves and Fishes. She continues to be a student ambassador for Wesleyan as an intern at the Georgia Industrial Children's Home and through service on the Wesleyan Relay for Life Committee.

"Wesleyan has taught me the importance of being true, responsible, organized, and self-aware on the track to success," remarked Colleen. "I have grown as a leader, as a student, and as an individual – I know I will bring this and more with me after graduation. These skills will be greatly beneficial in the human services field and in everyday life."

In addition to her full slate of leadership roles, Colleen maintains a superior academic standing. She has been named to the Dean's List and participates in the Honors Program. After earning a major in human services, Colleen wants to connect with a program that assists children and hopes to become an integral part of that program. If she can't find a program, she plans to create her own! "I am looking forward to working with children and helping them reach their full potential in all areas of life."

For her outstanding leadership and potential; for her scholastic achievements and honors; for service she has given to the Macon community and Wesleyan, especially as a role model for first and second year students; and for upholding Wesleyan traditions and ideals as a class leader, the Wesleyan College Alumnae Association is proud to present the Scholarship for Leadership award to Colleen DeGraff, Class of 2015.