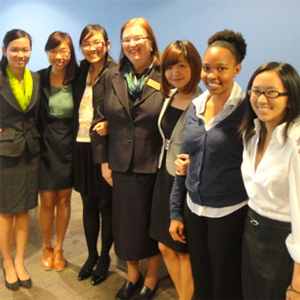 Wesleyan students place in Top Ten
Wesleyan College's Department of Business & Economics is pleased and proud to announce that two teams from Wesleyan placed as Top Ten Finalists in the recent Institute of Internal Auditors (IIA - Atlanta Chapter) state wide 3rd Annual Internal Audit Case Competition, and one team went on to win first place. 

Almost forty teams from around the state entered their case solutions to the competition (including four teams of three students each from Wesleyan College), and two of Wesleyan's teams were selected to compete in person in Atlanta on November 15, 2013 as part of the top ten finals. The two teams consisted of Sarah Ch'ng, Linh Lai, Catherine Misigaro, Thu Huong Ngo, Linh Nguyen, and Mai Huong Phung. Dr. Kel-Ann S. Eyler, Associate Professor and Program Director of Accounting, served as their faculty advisor and accompanied the two Wesleyan teams to Atlanta. Both teams gave excellent presentations of their case solutions under the direction of IIA Mentors Jerry Jennison (Senior Audit Manager-UPS) and Dave Petrisky (Audit Manager-AT&T).

At the end of the day, the top three finalist teams were announced: Wesleyan College (consisting of Wesleyan students Sarah Ch'ng, Linh Lai, and Mai Huong Phung, mentored by Jerry Jennison) placed first, the University of Georgia placed second, and Columbus State University placed 3rd. The Accounting Program faculty is very proud of all the students and their entries, and hopes they participate in the competition in the future as a way to learn more about internal auditing, fraud, and the internal auditing profession.