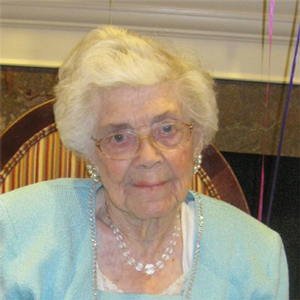 Annie Mays Larmore, Class of 1928
Annie Mays Larmore returns to campus for 85th reunion
On Saturday, August 10, 2013 Wesleyan College lost its longest living alumna, Annie Mays Larmore (1907 – 2013). During the 85 years after her graduation from Wesleyan in 1928, Annie remained true, faithful, and loyal to her alma mater and embodied all the finest virtues of a true Wesleyanne. Enjoy reading her remarkable story...

In 1928, Amelia Earhart flew solo across the North American continent and back, Walt Disney's Mickey Mouse debuted in the movie "Steamboat Willie," and Herbert Hoover became the 31st president of the United States. The same year, James Dean, Fats Domino, and Shirley Temple were born, and Alexander Fleming discovered penicillin. 
In Macon that year, Wesleyan College graduated its last academic class from the original downtown campus on College Street. Few remember what Wesleyan was like in 1928, but Annie Mays Larmore '28 is someone who does. During Alumnae Weekend, April 19-21, 2013, Annie Mays returned to campus for her 85th reunion with spirited determination to get her stories told, recorded, and preserved for future generations of Wesleyannes. During the Annual Meeting, President Ruth Knox presented Annie with a Resolution and said, "Annie Mays Larmore inspires us everyday with her energy, her wisdom, her wit, and her life-long passion for education. Her appreciation of Wesleyan's rich history combined with her ever expanding vision for what Wesleyan will become is her greatest gift to her Alma Mater."

Like every student who didn't live on campus in the early part of the twentieth century, Annie was called a Town Girl. Her family lived next door to the Mercer University campus where her father and grandfather had earned their degrees; but because of her gender, Annie was not allowed to attend Mercer. She and the daughters of five Mercer professors walked two miles to Wesleyan every morning and two miles home every evening. "The streetcar turned off before it got to Wesleyan, but one could take a taxi," Annie said, "if one had the money." Town Girls had one room with a row of lockers and an announcement board. Since they were not on the cafeteria plan, Town Girls walked to the drug store to buy lunch.

According to this history major, women of the 1930s had few choices. "A girl either got married, became a missionary, or taught school," said Annie. "I'm so glad Wesleyan has preparation for all professions now. There needs to be a purpose to graduation." Unlike many women of her generation, Annie earned several degrees and enjoyed professional life as a librarian in Atlanta for forty years.

After graduating from Wesleyan, Annie moved to Abbeville, Georgia, and taught high school history and served as an assistant to the basketball team. When Mercer began admitting women, Annie enrolled. She saved the money she earned during the school year and spent her summers in Macon earning a master's degree at Mercer. Later Annie earned a graduate degree in library science at Emory University. There she met the man she would eventually marry. "It was the depression," she said. "We courted for nine years. I wore my diamond ring and he'd come visit me in Macon every other weekend."

Annie was a founding member of Group IV, the original Atlanta Alumnae Club organized by Irene Sewell Hobby '22 who, before she died in December of 2008 at age 106, was Wesleyan's oldest living Wesleyan. Annie, having recently celebrated her own 106th birthday, now holds the honor.

Reflecting on the value of a liberal arts education that results in students who think critically and write and speak effectively, Annie claimed that Wesleyan prepared her with an education that was both relevant and timeless. Her wish for women of today is that they gain the type of education that will allow them to be highly competitive for any professional field and with an understanding of life-long learning to carry them through several generations – just in case they, too, live to be 106 years old.

"I don't want Wesleyan women today to be limited," Annie said. "I want them to be strong women who are dedicated to contributing to society. I want Wesleyan women to be big enough socially, mentally, and spiritually to go on from Wesleyan to be whatever they want to be."
 Click here to read Annie Mays Larmore's Resolution.