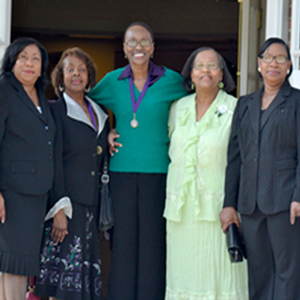 Sonya Tomlinson Holland, Marvette Renee Baldwin Jenkins, Christine Everett, Dyleane Taylor, and Carolyn McClinton Woodard
Wesleyan honors five alumnae who broke color barrier
It had been 40 years since the five women who broke the color barrier at Wesleyan College had been together on campus.
They'd each been back before, but never at the same time.
They were all invited to the school's fall convocation. Four of them, members of the class of 1972, showed up in the dining hall parlor Thursday morning, awaiting the fifth.
Then Sonya Holland-Tomlinson walked in and the pioneering women, teenagers in 1968, were one at last.
"Five of us! Five of us!" Christine Everett said. "I knew somehow, some day the five of us would make it."
They hugged, reminisced.
"I cannot believe it," Dyleane Taylor-Spradley said. "All of us together, can you believe it?"
The classmates were there to be recognized, saluted for being the first black women to earn Wesleyan degrees.
"It's our honor," Taylor-Spradley said when Wesleyan President Ruth Knox stood with the women for a group picture. "We are still alive."
"We're so glad you're here," Knox said.
Knox explained to the women that when the convocation began she would briefly tell the audience about their story and invite them onstage to hand them plaques.
"OK," Taylor-Spradley said, "I may take a few extra minutes because I broke this toe."
Knox told her to take as long as she liked.
A little later, Taylor-Spradley said she still couldn't believe 40 years had passed.
"Don't remind me, girl," classmate Carolyn McClinton-Woodard said.
When the five, including classmate Marvette Baldwin Jenkins, first arrived on campus in 1968, they were the first blacks to live in the college's dormitories.
Taylor-Spradley said former Wesleyan President William Earl Strickland, who died last year, had wanted them to experience campus life, "to truly integrate. Because they had tried with day students and those students left. They couldn't handle it."
Everett, from Thomasville, was 16 when she enrolled.
"We were young kids," Everett said. "We didn't know what we were getting into. But we have a story to tell. Each one of us has a story, but together we have a story."
Half an hour later, Knox told the convocation crowd in Porter Auditorium some of that story, of "five brave young women -- Carolyn, Dyleane, Christine, Marvette and Sonya."
"For these women," Knox said, "every ordinary act of campus life demanded a kind of bravery that simply never will be required for most of us."
Then the college president, just as she'd said she would, called the women to the stage.
There was applause, cheering.
Later, Taylor-Spradley said it was gratifying, overwhelming even "to be told that what you did was appreciated."