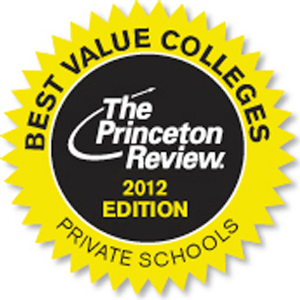 Wesleyan College named on The Princeton Review's list of Top Ten Best Value Private Colleges again for 2012
Wesleyan College is a "Best Value" private college for 2012 according to The Princeton Review, one of America's most widely known education services and test preparation companies. The Princeton Review teamed with USA TODAY, the nation's most widely read print newspaper, to present its list, "The Princeton Review Best Value Colleges for 2012." The list features 150 schools in 37 states  -- 75 public and 75 private colleges and universities. Of the 75 schools chosen in each category (public and private), the top 10 are ranked 1 to 10, and the remaining 65 are listed in alphabetical order and unranked. Wesleyan College has consistently appeared on the list since the program was launched in 2004.
Said Robert Franek, Princeton Review's Senior VP/Publisher and lead author of The Best Value Collegesbook, "We recommend these extraordinary colleges as our 'best buys' for 2012 and salute them for all they are doing to keep costs down and / or offer generous aid to applicants with financial need." Franek added, "We appreciate the deep concerns families have about affording college: among the 12,000 teen and parent respondents to our 2011 'College Hopes & Worries Survey,' 86% reported financial aid would be 'very necessary' for them to pay for college."
The Princeton Review chose its "Best Value" schools based on analyses of data the company collected from an initial list of 650 institutions it identified as having excellent academics. More than 30 data points were assessed across three primary areas: academics, cost of attendance, and financial aid. Cost and financial aid data came from the Company's Fall 2011 surveys of school administrators. Data on academics came from its Fall 2010 through Fall 2011 surveys of school administrators. The Princeton Review also factored in data from surveys of students attending the schools who shared assessments of their professors and their satisfaction with their financial aid awards.