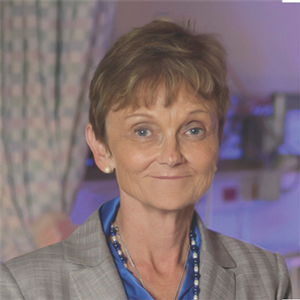 Dr. Judy Lott
Wesleyan College Welcomes Dr. Judy Wright Lott, Dean of Nursing
In response to statewide demand for qualified registered nurses, Wesleyan College received approval from the Georgia Board of Nursing in November 2011 to develop a Bachelor of Science in Nursing program with junior-level nursing courses beginning in fall 2013. Dr. Judy Wright Lott, DSN, NNP-BBC, FAAN joins Wesleyan's staff as founding Dean of Nursing, bringing more than thirty-five years of experience as a nurse, educator, nurse practitioner practice director, researcher, and university dean. Dr. Lott and Wesleyan College will be hosting a Bachelor of Science in Nursing Open House on Saturday, March 31, from 1 – 4PM, at the Peyton Anderson Amphitheatre in Taylor Hall. Guests can also tour Munroe Science Center and see a demonstration of high fidelity human patient simulators.   
For the past nine years Dr. Lott has served as Dean of Baylor University Louise Herrington School of Nursing where she spearheaded several programs and initiatives to strengthen the University's position as a premier nursing school. During her tenure, total nursing enrollment grew by nearly 70%. Prior to her tenure at Baylor, Dr. Lott taught Neonatal Nurse Practitioner (NNP) students at three universities, led two NNP patient care services, authored six books, and published numerous book chapters and articles on neonatal nursing. Currently she is working to complete an extensive rewrite of the fifth edition of her book Comprehensive Neonatal Nursing Care: A Physiologic Perspective, which is considered an authoritative text on neonatal nursing.   
Dr. Lott is a Fellow of the American Academy of Nurses (FANN), American Nurses Association (ANA), Association of Women's Health, Obstetric, and Neonatal Nurses (AWHONN), National Association of Neonatal Nurses, Sigma Theta Tau, Eta Gamma Chapter, and Phi Kappa Phi Honor Society among other professional societies. Her many honors include being chosen as one of the University of Alabama at Birmingham School of Nursing's 60 Visionary Leaders. She was also named Baylor University Women's council of Dallas Woman of Distinction (2006-2001) and was an invited participant in Academic Round Table on Women's Issues at the Oxford Round Table, Oxford University, UK in 2006. Recently, Baylor University has created two endowed scholarships in Dr. Lott's name.   
"The demand for better-prepared nurses is going to continue at an alarming rate as the baby boomers reach an age where they require more services; this will be compounded by the number of nurses who are baby boomers themselves. Our goal at Wesleyan is to educate high-quality, patient-centered, critical-thinking nurses who can help transform health care throughout our community and state. We are dedicated to fulfilling our nursing program motto: Believe. Learn. Serve.," said Dr. Lott.   
Hallmarks of the nursing program at Wesleyan will include an emphasis on women's health and holistic nursing. Preliminary conversations with representatives of Central Georgia Health System, Medical Center of Central Georgia, Coliseum Health System, Houston Healthcare, and the Macon-Bibb County Health Department have paved the way for their facilities to serve as clinical sites. The College anticipates working with other acute and primary care health facilities in the region, as well.   
According to Wesleyan President Ruth Knox, "Addressing the statewide shortage of qualified registered nurses is critically important, especially to the Central Georgia region. We are diligently working to create a program that will be distinctive in its focus on women's health and wellness. Our program will be quite demanding in its preparation of registered nurses who will be prepared for graduate level training and advancement to management and other leadership roles within the health care industry. Adding this competitive nursing degree program will not only prepare a significant number of trained and highly educated graduates for our regional medical industry but also attract a number of new professionals to our region."   
In October 2011, the Trustees of The Peyton Anderson Foundation awarded Wesleyan College a generous grant of $900,000 to help establish the new nursing degree program. Wesleyan College is on target to obtain full approval and accreditation for the Bachelor of Science in Nursing program from the Georgia Board of Nursing, American Association of Colleges of Nursing/Commission on Collegiate Nursing Education, and the Southern Association of Colleges and Schools/Commission on Colleges.