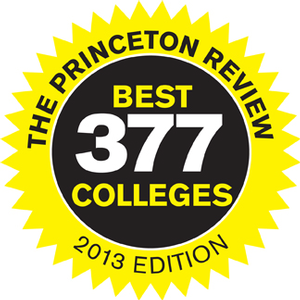 Princeton Review gives Wesleyan High Praise
Wesleyan College offers students an outstanding undergraduate education, according to The Princeton Review. The New York-based education services company features the college in the new 2013 edition of its annual book,
The Best 377 Colleges
, as a Best Southeastern College and gives high ratings for academics and classroom experience. 
Wesleyan Ranks High in Princeton Review's The Best 377 Colleges
Ranked 19th in the nation for "Class Discussion Encouraged"
Ranked 8th on "Stone Cold Sober Schools" list
Ranked 4th for low beer usage in "Got Milk?"
Ranked 6th for low hard liquor usage reported in "Scotch & Soda, Hold the Scotch"  
Only about 15% of the four-year colleges in the United States were chosen for the book. It has two-page profiles of the schools and student survey-based ranking lists of top 20 colleges in more than 62 categories. According to Princeton Review Vice President Robert Franek, "We commend Wesleyan College for its outstanding academics, which is the primary criteria for our selection of schools for the book. Our choices are based on institutional data we collect about schools, our visits to schools over the years, feedback we gather from students attending the schools, and the opinions of our staff and our 30-member National College Counselor Advisory Board. We also work to keep a wide representation of colleges in the book by region, size, selectivity and character."   
Complementing the student survey-based ranking lists and profiles, the editors of The Best 377 Colleges offer school ratings in several categories. The ratings are numerical scores on a scale of 60 to 99 based largely on school-reported data collected during the 2011-12 academic year. The Princeton Review gave Wesleyan College an Academic Rating of 91, Quality of Life Rating of 80, Financial Aid Rating of 83, Admissions Selectivity Rating of 89, and a Green Rating of 82. The College's profile quotes extensively from Wesleyan students surveyed for the book. Among their candid comments: "Wesleyan is a diverse college full of brilliant women [who are] devoted to sisterhood and tradition, but it still manages to [balance] more modern ideas and practices;" "aca­demic rigor, supportive atmosphere, diverse student body, nice facilities, and excellent classroom environment;" "students maintain a balance between their academics, extracurricular activities, and community service;" "Professors are definitely the best part of Wesleyan. [They are] totally dedicated and engaging;" "lab facilities are great;" "very little drug use;" and "most classes are done discussion-style, with many diverse viewpoints presented."  
The ranking lists in the 2013 edition of The Best 377 Colleges are based on Princeton Review's survey of 122,000 students (about 324 per campus on average) attending the colleges in the book. A college's appearance on these lists is attributable to a high consensus among its surveyed students about the subject. The 80-question survey asked students to rate their schools on several topics and report on their campus experiences. Ranking lists report the top 20 schools in categories that range from best professors, administration, and campus food to lists based on student body political leanings, race/class relations, sports interests, and other aspects of campus life. Among the nation's best colleges, Wesleyan ranked in the Top 10 for three categories and in the Top 20 in two more category.  
Princeton Review, along with the editors of USA TODAY, selected Wesleyan College as the nation's 3rd BEST VALUE PRIVATE COLLEGE for 2010 and 9th for 2011.