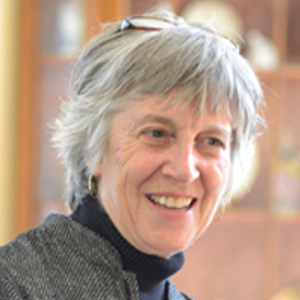 Representative Karen Joy Clark
Fall Convocation
Wesleyan College's academic year officially opens with the 2012 Fall Convocation to be held in the Porter Family Memorial Fine Arts Building on Thursday, September 20, 2012, at 11:15 a.m. Speaking will be Representative Karen Joy Clark, who has served her area of Minneapolis for over 30 years and also serves as Executive Director of the Women's Environmental Institute.   
Elected in 1980, Clark is in her sixteenth term in the Minnesota Legislature, representing an inner city district in South Minneapolis, the lowest income Legislative District in Minnesota, and consistently receives 75-85% of the vote from her constituents. In 2008 she received 89%, the highest vote margin in the state. She is a frequent speaker on her innovative and cutting edge legislation to local, national, and international audiences. She is known among her colleagues for her coalition-building skills and her persistent community-based advocacy on behalf of her inner-city constituents and of low-income and minority-status Minnesotans throughout the state. As chair of the House's Public Health Finance and Housing Policy and Finance Committee, Rep. Clark has championed environmental health and affordable housing legislation that challenges the status quo and promotes economic and social justice options. She is currently a member of several committees including Capital Investment, Jobs and Economic Development Finance, and Redistricting. Since first being elected, she has chaired the Governmental Operations Subcommittee for Jobs Creation and Unemployment Issues, the Economic Development and Housing Subcommittee for Job Development and Training, the Economic Development Subcommittee for the Community Stabilization and Development Division, the Housing Committee, the Economic Development and International Trade Subcommittee for the Housing and Housing Finance Division, and the Finance Subcommittee for the Housing Policy and Finance and Public Health Finance Division.   
Clark earned her Bachelor of Science in Nursing from College of Saint Teresa in Winona, MN. She later attended the John F. Kennedy School of Government at Harvard University in Cambridge, Massachusetts earning her Master of Public Administration degree in 1996. Clark has been an instructor at the University of Minnesota since 1985. She is a member of the adjunct faculty of the Department of Human Relations at St. Cloud State University, of the University of Minnesota's Women's Studies Department, of the Macalester College Women's Studies Department, and of the College of St. Catherine Graduate School of Holistic Health. She is active in numerous South Minneapolis neighborhoods on issues relating to housing, health, human rights, labor, women's rights, peace, and affordable, high-quality childcare. Clark has received numerous economic and social justice awards including: Minneapolis Commission on Human Right's first Martin Luther King Award; Minnesota Nurses Association's first Public Officials Award; Minnesota Alliance for Progressive Action's first annual Progressive Leadership Award; and Jobs Now's Advocacy and Activism Award.