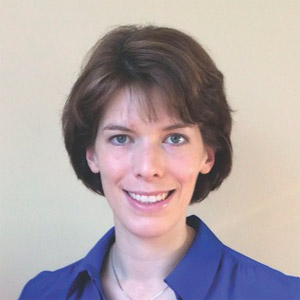 Anne-Kathrin Witt Class of 2007
Anne-Kathrin Witt's '07combined interest in science and business began at an early age when she realized that innovations thrive only if they are commercialized successfully. After completing high school in her native Germany, Anne-Kathrin aspired to study science and economics in the United States. The Georgia Rotary Student Program enabled her to begin that journey with a scholarship for a year's study at Wesleyan College.

At Wesleyan, Anne-Kathrin majored in chemistry and minored in economics, studying advanced micro and macroeconomics, international trade, statistics, calculus, and science. She also completed an internship at the pharmaceutical company Boehringer Ingelheim, where her duties focused on the accreditation process of a pulmonary and cardiovascular drug in Japan. Additional scholarships and fellowships allowed Anne-Kathrin to remain at Wesleyan where she earned her bachelor of arts degree, summa cum laude, in three years. In 2008, she completed a master's degree in biochemistry and structural biology, summa cum laude, from the Max Planck Institute in Germany and accepted a consulting position with PricewaterhouseCoopers in Frankfurt. There she advised clients in the pharmaceutical industry, redirecting her focus from research to business.

After earning her MBA at Harvard Business School (2013), Anne-Kathrin joined Teva Pharmaceuticals as associate director within the Central Nervous System (CNS) Division. Her work focused on CNS strategy and execution in markets outside the Unites States and European Union. She says, "This position allowed me to apply skills, knowledge, and experience to fuel innovations and add value to the products and services essential to the market. I am passionate about commercializing research findings, creating new innovative products, and targeting a global approach in the development of patient-focused therapies."

Today, Anne-Kathrin serves as  "Head Project Management, Global BD&L" for Novartis Pharmaceuticals in Basel, Switzerland.